With the holidays approaching quickly, it means we have a whole lot of entertaining in store! While we certainly LOVE to get creative with our cooking, we are smart enough to know that the way to please a crowd is with the tried and true classic appetizers that everyone knows, loves, and gobbles up! Here are some ideas for the perfect accompaniment while gathering with friends and family.
Deviled Eggs
A classic that is certainly experiencing a resurgence in popularity! And why not? You can go for the original Deviled Egg Recipe or spice it up with new flavors such as wasabi or herbs. To make this dish look more extravagant, use the Disposable Decorating Bags to pipe the filling into the egg. Simply throw away the bag when you're done. Ahhh... the joy of nothing to clean!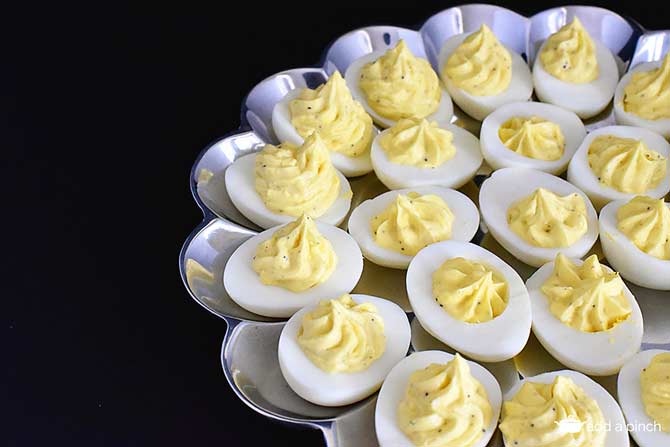 Cheese Straws
This is a classic Southern snack, but you certainly don't have to be Southern to enjoy this crispy cheesy deliciousness. The great thing about cheese straws is that you can prepare the dough in advance and leave it in your freezer until ready to use. Then just defrost it and pump out the dough using the Easy Action Cookie Press and Food Decorator. This heavy duty cookie press can easily handle the thickness of the dough. And again, we're all about easy clean-up. Just toss everything in the dishwasher.
Cheese Straw Recipe
1 pound (16 oz) sharp cheddar cheese, grated and at room temperature (the softer the cheese, the easier to mix)
½ cup (1 stick) sweet butter
2 cups all-purpose flour
¾ teaspoon salt
½ - ¾ teaspoon cayenne pepper (optional)
Preheat oven to 350 °F.
Mix cheese and butter by hand. Add remaining dry ingredients and mix. (Do not use a mixer or food processor.) Form into a round log and place the dough in the Cookie Press. Use the proper Cookie Press disc to form the straws on an ungreased cookie sheet. Bake for approximately 10 minutes or until they brown.
Goat Cheese Stuffed Mushrooms
Warm, flavorful, and the perfect size to pop in your mouth! Use a food processor for this one and you'll have it cooked and ready in no time! Comfort food at its finest.
Goat Cheese Stuffed Mushroom Recipe

Marinated Olives
Nothing to prepare here. Simply go to your favorite gourmet store and get a nice variety of olives. It is the perfect antipasto. Store them in the Olive Keeper. Or, even better, bring your favorite olives in the Olive Keeper as a hostess gift when going to a cocktail party.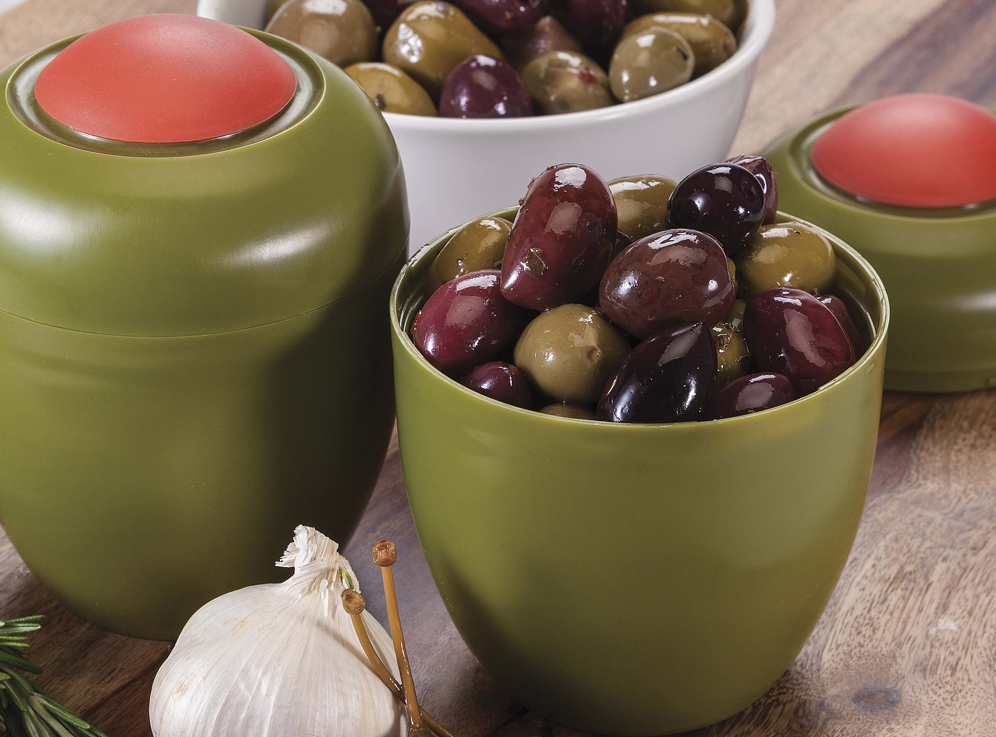 Classic Baked Brie in Puff Pastry
This looks a lot harder (and more impressive) than you would think. All you need is 1 sheet of store-bought puff pastry and a wheel of brie. Of course, you can get extra fancy by adding cranberries, nuts, honey, etc.
Baked Brie Recipe
Cheese Board
Where does everybody huddle, if not at the bar… the cheese platter, of course!
When crafting a cheese plate, be sure to include a variety of textures and flavors… some hard cheese, some soft cheeses, and even some blue cheese. Serve with a variety of crackers or baguette. Surround the cheese with condiments such as nuts, dried fruit, honey, mustard, and maybe even some fig jelly.
Now… in the very unlikely event that you have some left overs, be sure to properly store your cheese so that it stays fresh. We hope you never wrap your cheese in plastic wrap! Cheese is meant to breathe to stay at peak freshness. Try our Cheese Saver® to store your leftovers. Good cheese is expensive, so don't let it spoil.