The air is getting crips and the leaves are showing their brilliant colors here in New England. In just the past few days, it seems that everyone is raking the yard and putting up Halloween decorations. And, so, with that in mind, we have a few ideas for you to make your Halloween celebrations delicious, adorable, and just a little spooky!
---
"EYEBALL" ICE
These floating Ice Eyeballs are such spooky fun and SO easy to make. Your guests will love it! This is always a crowd pleaser and takes almost no time.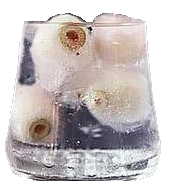 All you need is a jar of pimento olives and the Hutzler Ice Ball Tray.
Slice the olives perpendicularly so that you get a nice round shape with the red in the middle. Add 1 slice to each section of the filled ice ball tray.
Alternatively, if you will be using this in a sweet drink, you can substitute the olive for a piece of sliced kiwi or a blueberry. Freeze the ice as normal.
When removed from the tray, you will have spooky eyes staring back at you!
---
SUGAR COOKIES
We are all about keeping things simple and easy. Want to use just one single cookie cutter for endless possibilities? Then try these beautifully decorated Halloween Cookies from Craftsy: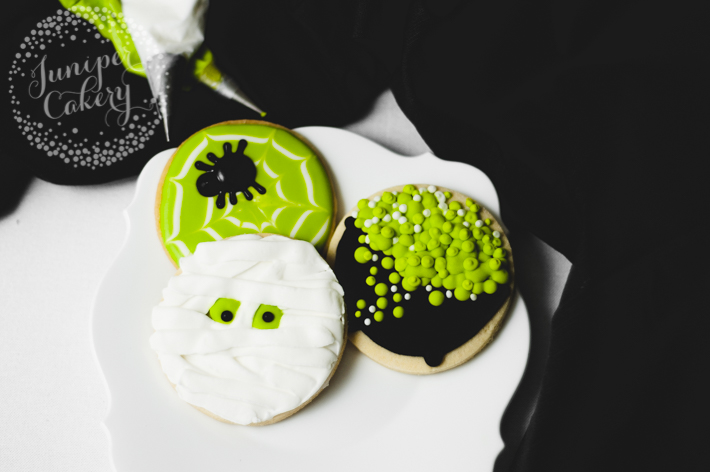 photo credit: www.craftsy.com
Use the Rollin-A-Round Cutter which not only will save you time, but can be used for so many other holidays and occasions throughout the year! Just roll out your dough and roll the cutter right on top.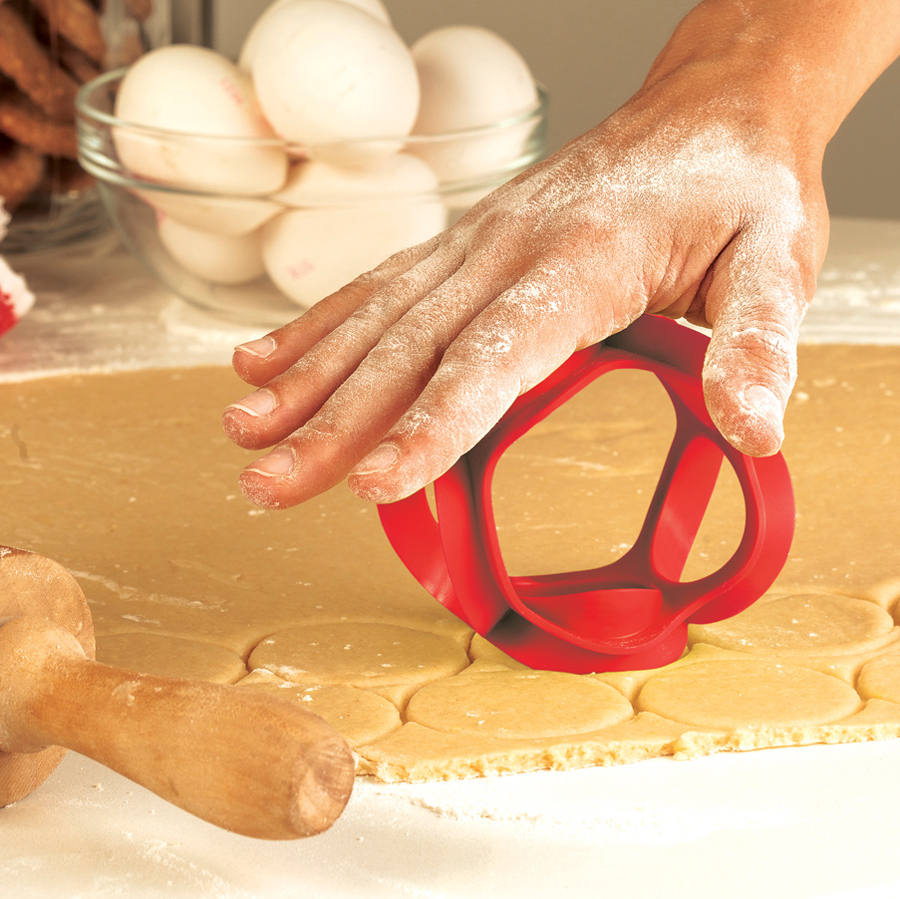 When decorating these cookies, the Disposable Decorating Bags with Tips make it easy to decorate with icing. The super strong seams on the bags will not burst. And best of all, there is nothing to clean up or sterilize... just toss when you are done.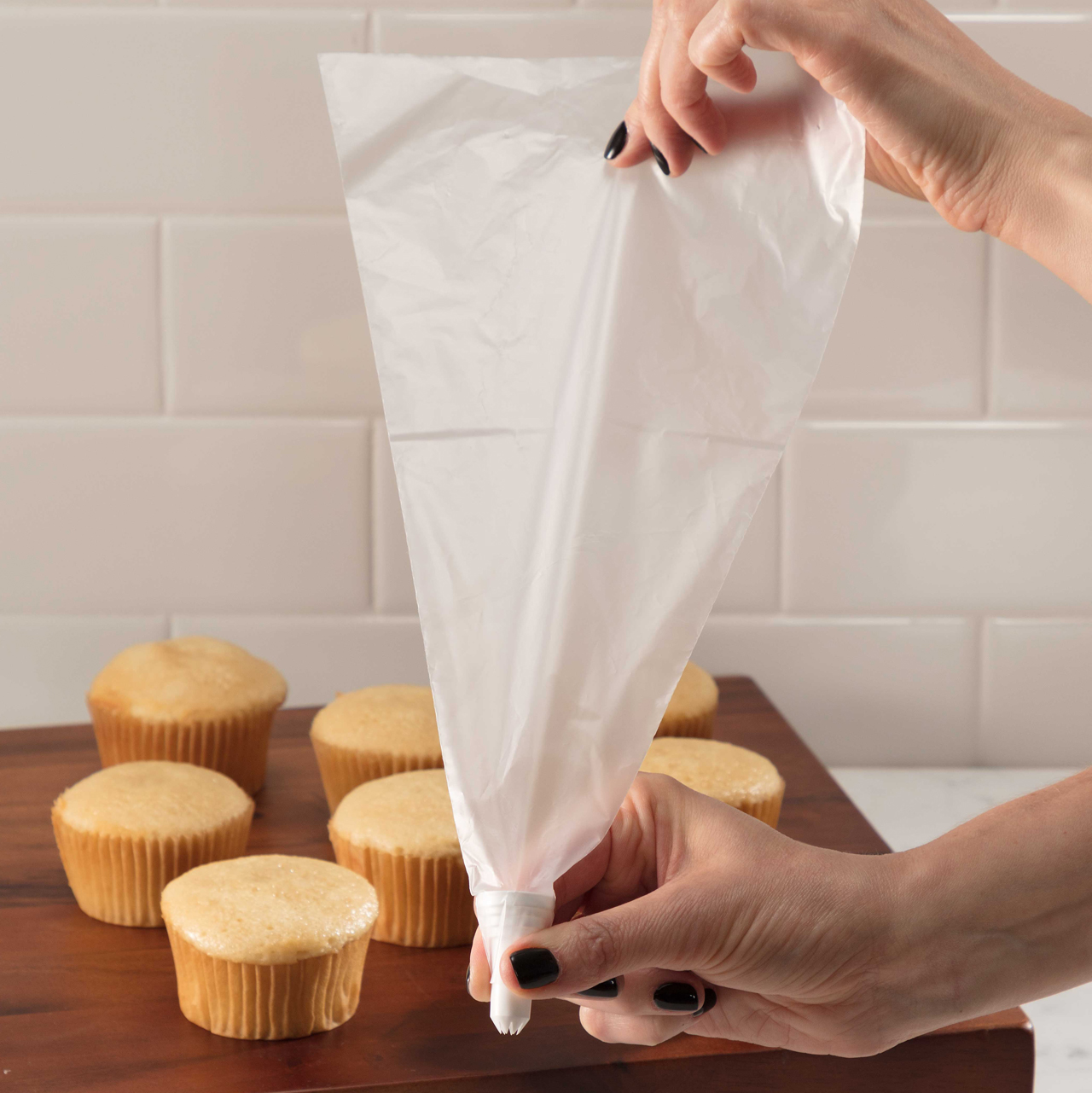 Not in the mood to deal with icing? Just sprinkle orange, purple, green and black sugar crystals on cookies before baking. This is especially fun to do when getting help from the little ones.
Here is our favorite Sugar Cookie Recipe:
OLD-FASHIONED SUGAR COOKIES
1 cup shortening
5 cups cake flour
1 cup sugar
2 teaspoons baking powder
2 eggs, beaten
1-1/4 teaspoons salt
2 teaspoons vanilla
1 teaspoon baking soda
1 cup sour cream
Cream shortening and sugar. In a separate bowl, mix eggs, vanilla and sour cream. Stir together the flour, baking powder, salt and baking soda mixture. Refrigerate. Roll out the dough and shape with cookie cutter. Carefully transfer to greased baking sheet. Bake at 325°F for 15 minutes.
---
PARTY PICKS
One final simple trick for adding some festivity to your Halloween buffet is to use decorative toothpicks.
Try the Metallic Ghosts, Spiders, and Pumpkins. Or you can even make your own using craft paper along with regular toothpicks. Hold "Monster Sandwiches" together, decorate cupcakes, or make fruit kebabs with these picks.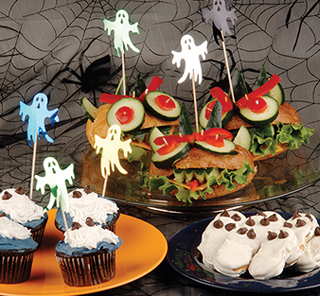 Whatever you do, we wish you a spooky safe and delicious Halloween! Enjoy!