Pizza is one of the most versatile foods. You can enjoy it as an appetizer, main meal, and even dessert! t's a crowd pleaser for sure! And it is oh, so good when made at home.
Life's busy and thankfully refrigerated store-bought dough is readily available. Or you can make your dough and sauce from scratch. Gratifying and delicious! We do both... just depends upon how much time we have. Either way, there is nothing like choosing your own toppings and enjoying it hot and fresh from the oven. We've got all the inspiration you may need for your Pizza Party upgrade!
MAKING PIZZA DOUGH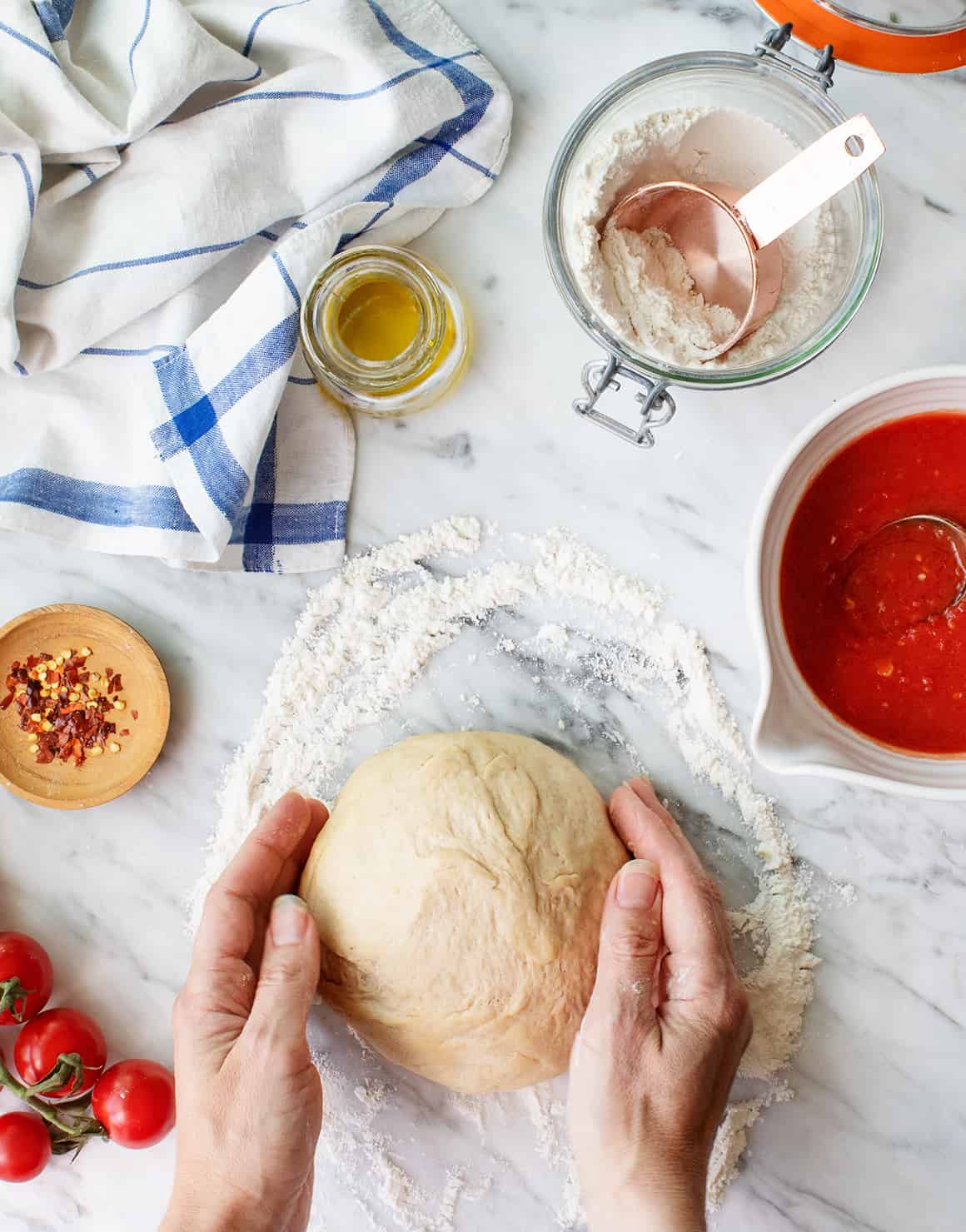 courtesy of Love & Lemons
Making pizza dough isn't as tough or time consuming as you may think. Most of the time spent is actually waiting for the dough to rise, which takes about an hour. When you have the time, make a few batches of dough and then freeze each batch after the dough rises. Then, on a busy night, just defrost and enjoy.
This Pizza Dough Recipe contains just 7 basic ingredients. Give it a try.
If you are gluten free or on a low-carb diet, we recommend the delicious Cauliflower Pizza Crust. And when we say delicious, we mean delicious, with nice crispy edges. These days you can purchase riced cauliflower in the frozen food section, which will save you some time, too.
MAKING PIZZA SAUCE
courtesy of A Couple Cooks
There are so many variations to a great pizza sauce. We always opt for simple and easy. This 5-ingredient Pizza Sauce Recipe is our favorite. It takes just 5 minutes to make and no cooking. Just put all the ingredients in a blender and go!
BAKING THE PIZZA
The best way to cook a pizza is on a pizza stone. It makes a beautiful crust in the oven. But, if you don't make pizza that often, you don't need to bother. All it takes is a cast iron pan. And in the summer, you can even cook this over a campfire! Here's how to make the perfect Dutch Oven Pizza.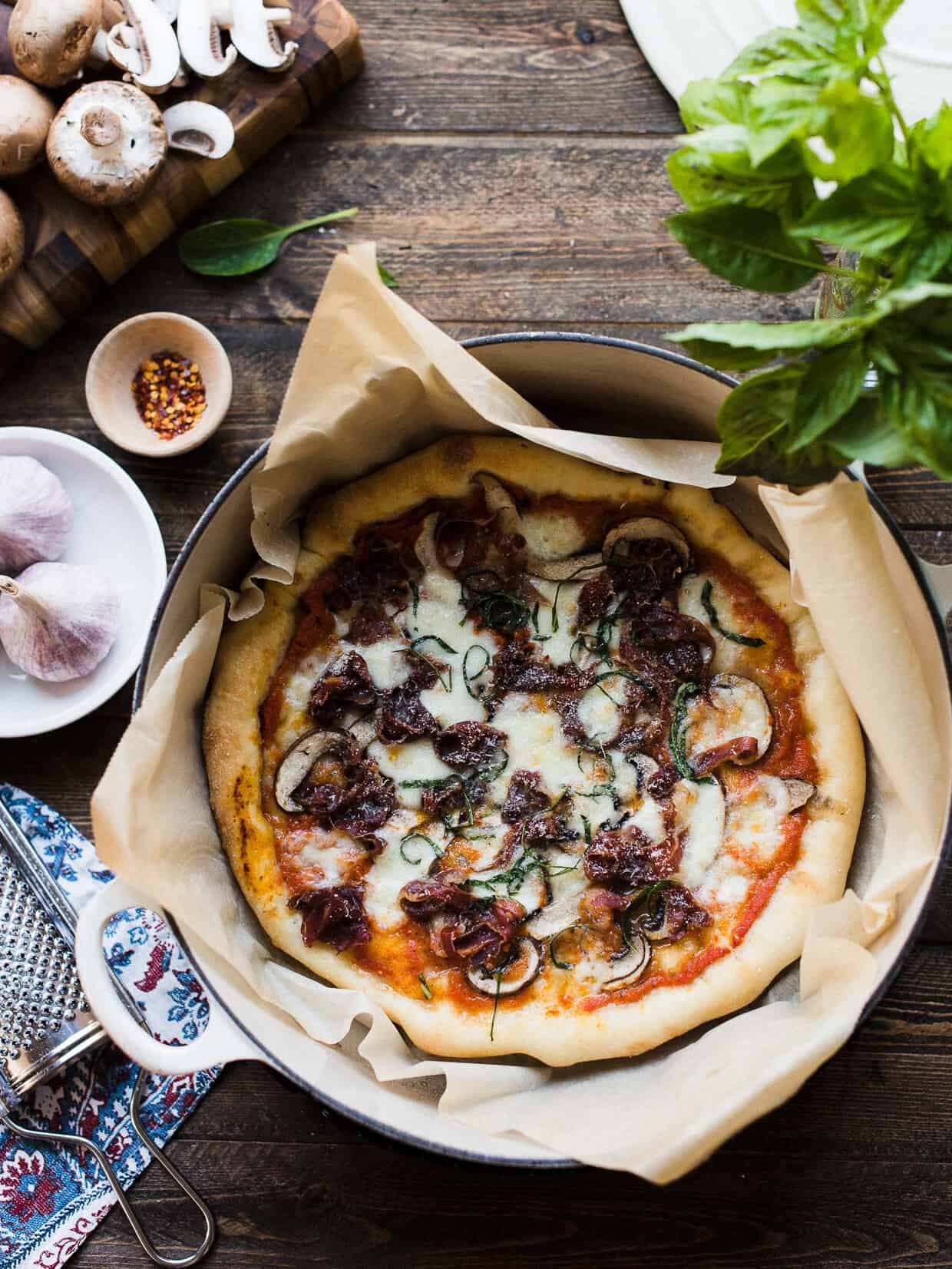 courtesy of Kitchen Confidante
THE TOPPINGS
Now, here's the best part....the toppings! Go crazy!
In fact, here is a list of some of the most Wild Pizza Topping Ideas. We're curious what you like best... Hangover Brunch pizza? Pizza Puttanesca? Taco Pizza? Pyrogy Pizza? Or our favorite Chocolate Hazelnut pizza... which we don't think is crazy at all!
Looking for something more sublime? Try this amazing Artichoke Pesto & Burrata Pizza or these Sicilian Mini Pizzas.
And of course, your own creations are always best. Let us know what you come up with!
---

See what we're using for these recipes:
Pizza Slice 'n Serve
Garlic Slicer
Grater 'n Bowl
Herb-Eze® Herb Stripper & Storage
Nesting Prep Bowls with Lids