You've Never Tasted Hummus This Good!
Let's talk beans, baby. Specifically, the chickpea. You know, garbanzos.
We are stocked up on our canned goods, we are learning new recipes, and we are coming up with new ways of cooking now that we are home a whole lot more. And through it all, one thing stands out... we LOVE chickpeas!
And what's not to love? Chickpeas are super healthy, providing excellent sources of both protein and fiber. Plus, they are loaded with vitamins. Their mild flavor makes them a versatile ingredient to enhance all sorts of dishes. And the fact that they are shelf stable gives the flexibility to have on hand at all times. Needless to say, garbanzos are just what we need these days!
With that in mind, we have rounded up our very favorite recipes that make use of this all-around beautiful bean. Four of the five recipes below incorporate the easy canned bean variety. If you have dry beans, it takes a bit more time to soak and cook them. But, the difference in taste makes it worthwhile. Click here to learn how to prepare dry beans.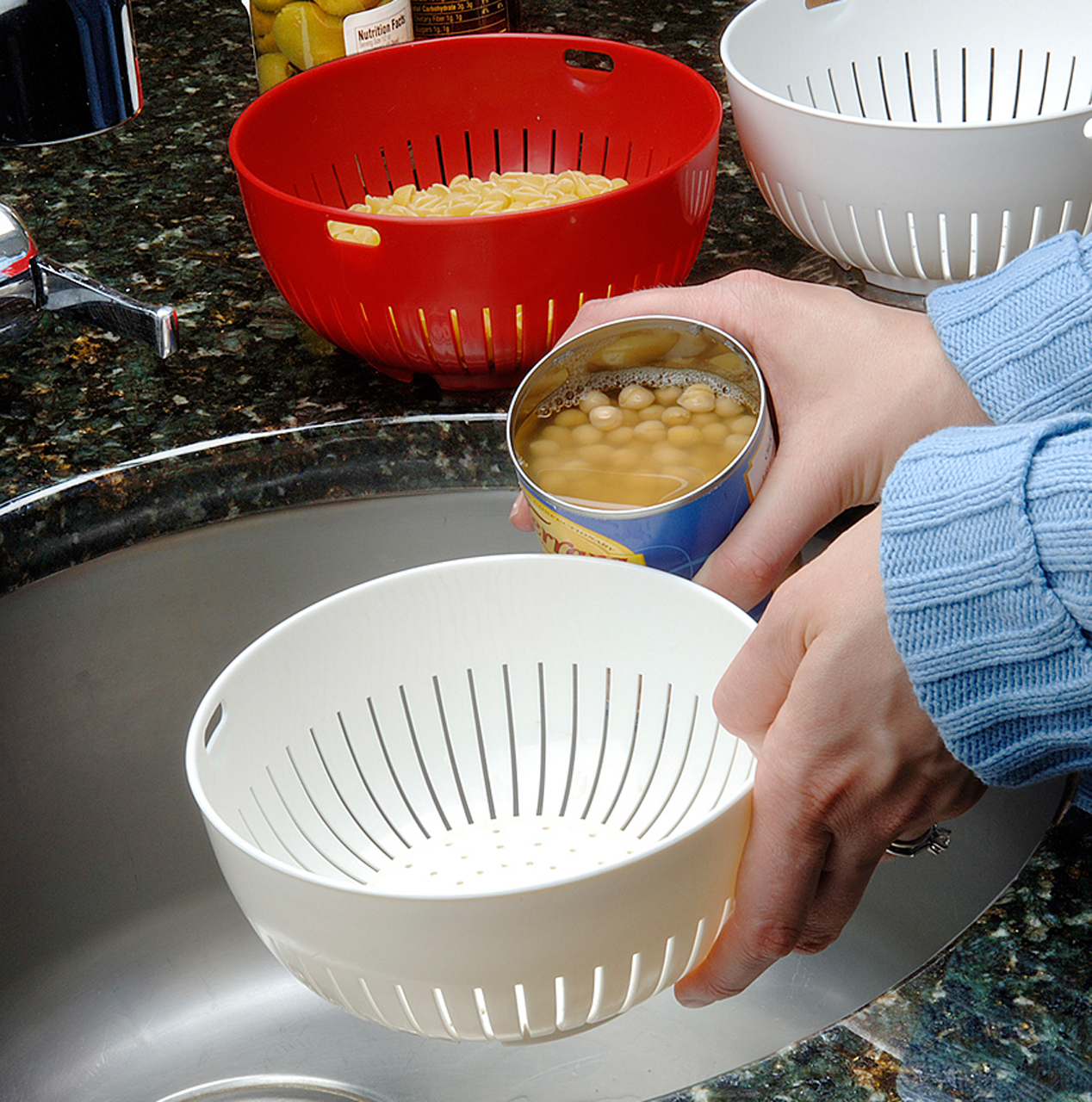 ---
RECIPE #1 - HUMMUS
When you think chickpeas, what comes to mind first?
Well, hummus of course! But have you ever tried MAKING hummus? It's SO much easier than you think! And there truly is nothing as delicious as fresh warm creamy hummus. Plus, you'll save money by making it yourself.
Here's our family's basic hummus recipe, straight from our kitchen. This one is made without olive oil. Yup. You heard us. No olive oil other than a little drizzle at the end. It is so basic and so easy, but there are 2 big secrets to this recipe that we are going to share with you.
Secret #1 - First, warm the chickpeas in the microwave before blending. This is an important step.
Secret #2 - On the opposite extreme, make sure to use ice cold water for blending. (Really… put some ice cubes in the water.) We're not sure why or how, but the ice water makes the hummus extra creamy without the use of olive oil. There must be some scientific reason for this, but we'll simply accept the fact that we have tried room temperature water, warm water, and cold tap water, but the ice water always yields the very best texture. It does not disappoint!
Simply Addictive Hummus
2 15.5-oz. cans of Chickpeas
1/2 cup Tahini (sesame paste)
1 teaspoon Salt
Juice of 1 Lemon (about 3 Tablespoons)
Optional: 1 garlic clove
1/4-1/2 cup Ice Water
Rinse and drain the chickpeas. Place the chickpeas in a microwave-safe bowl and heat on high for 1 minute. Place warmed chickpeas, tahini, salt, lemon juice, and garlic clove (if using) in a food processor or blender. Begin to blend, slowly adding the ice water until you reach the desired creamy consistency. Add the water very slowly. Transfer hummus into a serving bowl. Feel free to drizzle some olive oil on top. You may want to add a sprinkle of cumin, paprika, or oregano for a little extra color and flavor. Serve with pita chips or some celery & carrot sticks.
To make a delicious lunch, simply roast some vegetables like cauliflower and sweet potatoes and enjoy with a side of this warm hummus. Makes a healthy and savory lunch that you will be craving again and again.
---
RECIPE # 2 - ROASTED CHICKPEAS
Looking for a crunchy spicy snack?
Try fresh Roasted Chickpeas. This one is super easy to make. But, there is a trick. Make sure that your beans are dry before roasting. This way, they will crisp up nicely. If they go into the oven damp, you won't get that satisfying crunch. Other than that, it is just 3 simple ingredients. Sadly, these don't last long, so enjoy them the same day that you roast them.
Roasted Chickpeas
Canned Chick Peas
Olive Oil
Sea Salt
Preheat your oven to 400°F.
Meanwhile, rinse and drain the chickpeas. Pat them dry on a kitchen towel. Feel free to remove and dispose of any of the skins that fall off. Transfer the chickpeas to a baking sheet. Toss with a little olive oil and sea salt. Spread evenly on the bake sheet and roast for about 20 minutes. When done, either enjoy them as is or toss with some extra spices. Try shawarma spice mix if you happen to have some. Or, paprika and garlic, or curry. You get the idea…be creative.
---
RECIPE #3 - CHICKPEA & VEGGIE COCONUT CURRY

Have a craving for Thai food? This recipe for Chickpea & Vegetable Coconut Curry will satisfy! It incorporates frozen peas and then whatever fresh vegetables you might have on hand. Feel free to make substitutions to your liking. When selecting coconut milk, go for the real deal as opposed to the "lite" version. It makes a world of difference!

photo: purewow.com
---
RECIPE #5 - CHIMICHURRI CHICKPEA SALAD
With spring in the air and summer quickly approaching, this Chimichurri Chickpea Salad will be your go-to for lunch or a side dish with some barbecue. Made with fresh parsley, cilantro, and tomatoes, this salad is bright and cheerful. The chimichurri sauce is so good you may be tempted to just drink it straight up. Want a vegan version? Just omit the feta. It's just as delicious.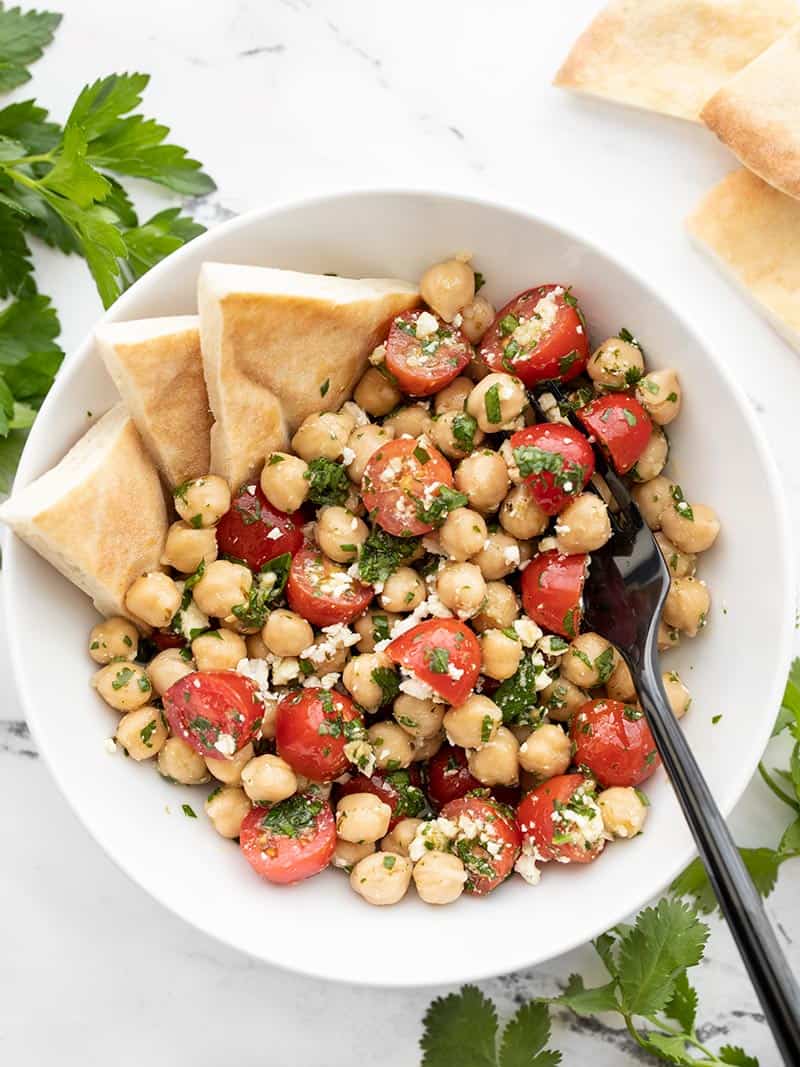 photo: BudgetBytes.com
---
RECIPE #5 - BAKED FALAFEL
This isn't the authentic middle-eastern falafel, but it is delicious and we find it to be the best for making at home. Reason being that it is baked, not fried like traditional falafel. This Baked Falafel is extremely versatile. In fact, for kids, it is a great "nugget" substitute. They can dip these in yogurt sauce, tahini sauce, or even ketchup if they so desire. The one thing about this recipe, and all falafel recipes in fact, is that you really must use dry beans. The canned variety will be too wet to make the perfect falafel ball and will sacrifice flavor. Plan for an hour of soaking time for the beans and you will be good to go!

photo: cookieandkate.com
---
We hope that you enjoy these recipes. Please let us know what you think. And please share them with family and friends.
Here is a list of helpful Hutzler products we use when prepping these recipes:
Mini Colander / Strainer, $4.99
Citrus Squeezer, $7.99
Herb-Eze®, $4.99
2.5 liter Melamine Mixing Bowl, $12.99
7.5" Melamine Mini Spreader, $2.99
10" Melamine Spoon, $4.99
Nylon Turners, set of 2, $5.99
Bitty Bowl, $2.49
Appetizer Tray, $17.99