Whether or not you are a die-hard football fan, Super Bowl Sunday brings out everyone's love of the game. It's the parties. It's the food. It's the beverages. It's the what-could-go-wrong at the half-time show? And, of course, it's the commercials.
This year, Super Bowl LV will be certainly be different... and downsized. Your super bowl party may be a party of one or it may consist of the same handful of family members that you see each and every day. But there is still a party to be had! And the snacks you serve will certainly be a highlight! The company will be outstanding, as always. The half time show features The Weeknd, so we expect to be enthralled. And the commercials… well, that remains to be seen. Budweiser and Coke have each bowed out for this year. Which advertisers will offer us the most memorable commercials? We can't wait to find out.
Kickoff is at 6:30PM EST on Sunday, February 7, but the pregame begins at 2PM. So really, we can enjoy a whole day of grazing and watching, in a smaller and more relaxed way. Here are our simple and traditional snack suggestions to make your Super Bowl Sunday both delicious and celebratory.
---
As it'll be a full day of snacking, we want something light and flavorful. There's a lot of eating, after all! With that in mind, there is no healthier or more appropriate snack than popcorn. No, not plain popcorn. We're talking about flavored to the max popcorn! Flavors like Ranch or Taco are both are great savory options for the game. Or you can opt for sweet... like a good chocolate drizzle or cinnamon sugar. There are so many flavors and varieties that you can easily throw together from what's already in your pantry.
So, how do we get the spices to stick? Just spritz a little olive oil on the popcorn and then mix it all together with the seasoning.
Which flavor combinations are best? There really are so many wonderful ones from which to choose. Here are some of our favorite Easy Homemade Popcorn Seasonings.
What we're using:
Popcorn Bucket with Kernel Catcher, $9.99
Popcorn Bowl with Kernel Catcher, $5.99
---
photo: Two Peas & Their Pod
This warm and cheesy dip is our super bowl comfort food. And, boy, do we look forward to it every year! You may be surprised to learn that this bowl of deliciousness is surprisingly simple to put together. (OK, it's not as simple as microwaving a block of Velveeta, but it's definitely worth the bit of extra effort!) Now, normally we would say that it's fine to go for the ease of store-prepped. Yet, for this recipe, we advise you to take the extra step of grating a block of cheese rather than using that pre-shredded bag from the market. If you have a food processor, the whole grating process will take you less than a minute. But hand-grating isn't especially time consuming. To make this recipe your own, you can add various spices and flavors depending upon your mood… think cilantro, jalapeno, pico de gallo, avocado… you get the idea. Serve with salty tortilla chips and enjoy, enjoy!
What we're using:
Cheese Saver, $9.99
Stainless Steel Flat Grater, $4.99
Pepper Saver Set, $9.99
12" Mixing Spoon with Hole, $3.99
Fiesta Snack Bowl, $5.99
---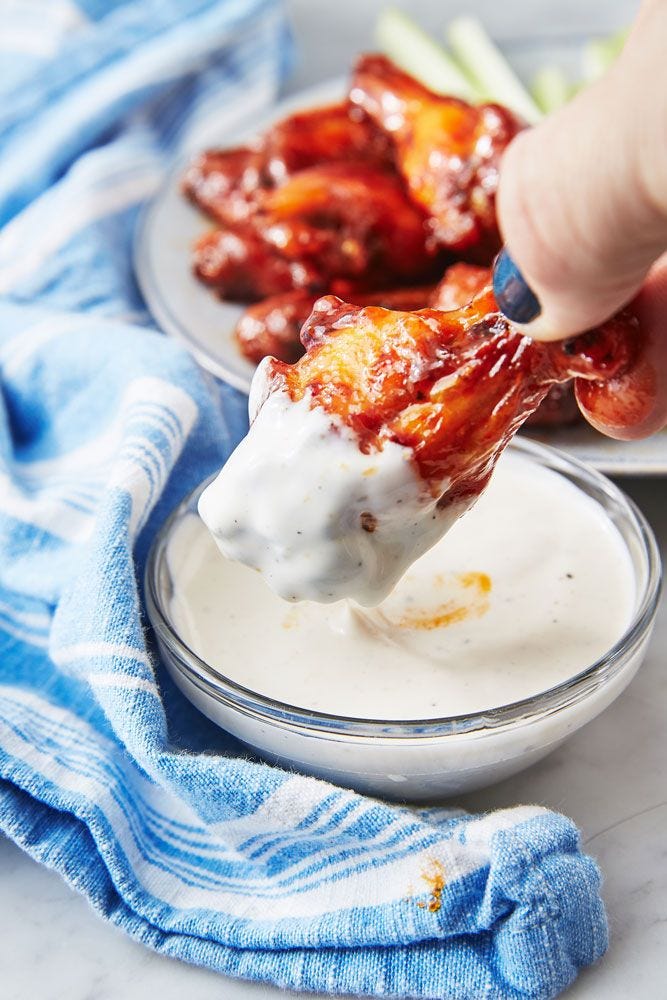 photo: Parker Feierbach
Who can be bothered with frying??? These baked wings get super crispy in the oven so you won't miss out on any of the crunch or flavor. The secret trick? Bake your wings on a wire rack to allow the air to circulate more. (Place the rack on top of a baking sheet to keep your oven clean.) Buffalo Sauce requires just 2 ingredients to prepare... hot sauce (we recommend Frank's) and butter. So simple! For dipping, keep things easy and go for your favorite ranch dressing.
Best Classic Buffalo Wing Recipe
For those enjoying a vegetarian diet, these Buffalo Cauliflower Bites with homemade Blue Cheese Dip are an absolute addicting favorite! We can't get enough! The blue cheese dip matches well with the wings, too.
What we're using:
Reinforced Nylon Turners Set, $5.99
14" Melamine Serving Platter, $12.99
Snack Bowl - 1 liter, $4.99
---
PIZZA
It is a known fact that pizza delivery for Super Bowl is always late, if available at all! This year, how about making your own specialty pizza? It is SO much fun and can get all ages involved.
If opting for low-effort, just purchase some store-bought ready made pizza dough. Done. If upping your game, make your own dough from scratch. We love this Homemade Pizza Dough for Beginners. You can get the kids involved and make it an afternoon project.
Next comes the sauce. And there is absolutely no shame in going for jarred sauce. We want fun AND easy! If you want to make your own sauce, we're fans of this unfussy 5-ingredient Pizza Sauce Recipe. Or, completely skip the sauce and create a white pizza with no sauce at all!
Moving on to our very favorite part of making pizza... the toppings!!!! We are truly only limited by our pizza imaginations. Perhaps it's the year to decorate your pizza with toppings in the shape of a football? Who knows what might inspire you! In the end, it's all delicious!
What we're using:
Pizza Slice 'n Serve, $9.99
Garlic Slicer, $9.99
Melamine Ladle, $4.99
PrepEase® Prep Bowls Set, $7.99
---
We hope you enjoy trying some of these Super Bowl Snacks. They are favorites of ours! And, of course, we would love to hear all the ways that you personalize these recipes.
Wishing you a Super Fun, Super Easy, Super Super Bowl LV!